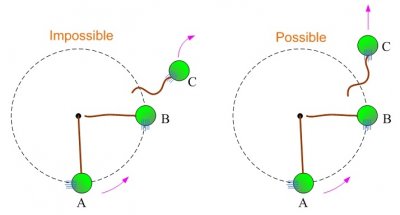 There are two kinds of force, which are the real force and the fictitious force. In fact, the centrifugal force is NOT a real force, but a fictitious force.
Now you want to say, "When you drive a car during a curve, you actually feel a force outward direction! Isn't it real?" In fact, this is a force emerged relatively to the centripetal force when turning a curve. Of course, if you stop tracking the curve, you will not feel the "centrifugal force."
Conversely, if the centrifugal force is really exerting an object or a car, then it moves to the outside of the direction. However, it does not happen in any case.
For instance, as shown in the figure, there is a ball with a certain mass connected to the string. Then, rotate it around the center to make a constant velocity of circular motion. If the centrifugal force is real, the ball jumps out on the outside of the circular orbit when released at B.
But the reality depicts as jumping toward tangential direction as shown in the figure on the right. This is because the centrifugal force is not a real force.
This is the same for a car driving in a curve. When the car goes too fast to turn the curve, the car skids off toward the tangential direction of the curve although we always feel like the car goes off toward perpendicular to the curve's orbit.
In general, there is another fictitious force other than centrifugal force with a moving object on the Earth. The object looks turning for the outside observer; namely, there appears to be a fictitious force, which is known as the Coriolis force.
As you can see, it does not happen unless the Earth is spinning. Due to the Coriolis force, the hurricanes on the northern hemisphere rotate counter-clockwise.
We can say that the fictitious force is a force generated associated with the correspondent real force or the motion of the reference frame. It is not a force that exists independently.
No feedback yet