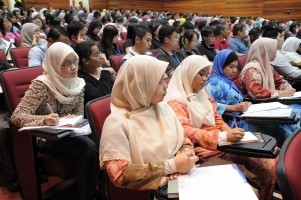 In the United States, while a professor grades his/her students, the students evaluates their professor. It also helps the professor improve the class management for the future classes.
 
I read the evaluation written by the student after the semester. In fact, studetns wrote very well to describe the professor's teaching method and overall educational effects by taking the class.
 
Apart from such evaluation, I personally interviewed many of students, and they told me quite interesting facts that they really think.
 
Students generally want teachers who can break down the contents and make himself/herself understood for every student. However, students do not respect a teacher who makes class too easy. It depends on students, but I sense that most of the students want a good education rather than easy grades
 
After I had interviews with many of the students, I noticed that the evaluation on the teaching method from the professors' point of view is different from the that from the students' point of view.
 
As I mentioned earlier, students want teachers who can make difficult concepts easy and teach patiently when students have hard time to understand them.
 
On the other hand, for the professor so-called hiring side, there is a tendency to choose a professor who can fluently and dignifiedly speak in front of people with some witty expressions.
 
In other words, the professors already know what s/he talks, so they would like to choose people who can talk smoothly and bring out some difficult concepts of subjects.
 
Anyway, when such a professor is selected to hire, it tends to be tough for students. Namely, such professor may express the attitude like "Why don't you understand such easy stuff?" Then, the evaluation from the students becomes often low in many cases.
 
I just remember that one student said to me, "When someone becames a teacher, s/he will forget what s/he was a student a long time ago." What a good expression it is!
 
It is reasonable to say that there is such a conceptual gap between students and professors. If we do not cnsider this, it will be hard to bring about student-centered quality of education.
No feedback yet