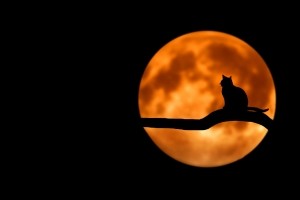 Question:
How do you explain the nature of light from physics point of view? Why do the Sun and the Moon appear to be the same in size to us when you look at them from the Earth? Is it just an accident?
Answer:
When you see it in a large scale, light is an electromagnetic wave, it travels through space as a transverse wave. So called white light looks white to naked human eyes because it contains all wavelengths of seven colors of a rainbow. We can only perceive colors in spite of the fact that there are various electromagnetic waves in the world. In fact, we are surrounded by invisible light that technology has made us able to use in everyday life. For example, remote-control, radio wave, mobile phone, etc. In a smaller scale, light acts as gathered particles. There is a machine with attached feathers that was designed to turn when light shines the feather. The machine is called the radiometer. In a much smaller scale, it has been known in physics to determine the energy of light, which is not based on the intensity of light; rather, it is determined by its wavelength. 
Also, the way the Sun and the Moon appear to be the same in size to us. Scientifically, we can only say that it is an accident; however, we can not exclude some unknown reason behind it. It is interesting to see that the Earth is the only planet within our solar system that has a satellite as big as the Moon. And if you'd notice, the Moon turns once in its axis while it revolves around the Earth in a month so that showing only the same surface towards the Earth at all time making other side hidden to see from the Earth.
If the distance between the Sun and the Earth had been slightly different, neither of human life nor any form of life on Earth could not have happened. 
Yasuo Koide & Hiro Shimoyama
Also visit at Hirophysics!
No feedback yet